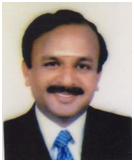 Mine is a rags-to-riches story! Before the year 1990 I had only rags. Riches came to me after I met the venerable Pandit Sethuraman in that year and got my unlucky name changed to a numerologically lucky one. I must share this miracle with everybody who aspires to succeed and progress in life.
I belong to Tirunelveli district in South India. I opted to start a hotel business at many other towns and failed miserably. As suggested by one of my well wishers, I consulted Pandit Sethuraman, the greatest Numerologist of all time in the 1990. He made some changes in my name after analysing the spellings with reference to my Birth and Destiny numbers. Subsequently, I started restaurants in a couple of towns and ran into financial difficulties. Once again, in 1992 I met Panditji and explained my woes with tears in my eyes.
He patiently listened to my story and comforted me patting gently on my back and asked for the names of the hotels and my residence. Having thoroughly studied all the selected names, my hand, and horoscope etc., he suggested to name my new hotel "Sri Saravanabhavan" to be opened at Salem and blessed me abundantly.
He also refused to take his fees this time and promised to take it when the bad signs and marks on my palms disappeared. With renewed vigour and confidence given by Panditji, I commenced my business by opening the "Sri Saravanabhavan Hotel" opposite to Salem Bus Stand on 3-2-1993. The business flourished in leaps and bounds and today I have 12 branches of my hospitality industry at Salem and Yercaud alone. Though Panditji is no more today, I owe to him all my success and pray to his noble soul with utmost gratitude. What else other than his divine guidance could have caused this miracle in my life but for which I would have committed suicide!
In another incident, a close, respectable friend of mine at Chennai, who was on the verge of committing suicide due to repeated failures in business was taken by me to Pandit Sethuraman. Having studied the case and the strength of the numbers of name and business, Panditji made a change in my friend's name and advised him to follow certain procedures in routine life. What a surprise! It did miracles in my friend's life and the outstanding dues to him to the extent of Rs.2crores unexpectedly returned. There was no more slump in his business and he is the leading figure in his field of business on date.
A cousin of mine had a daughter who was suffering from a hole in her heart. Even treatment from a famous cardiac surgeon at Chennai was of no use. I took the patient to Panditji for consultation. He studied the case and changed the spelling of the patient's name so as to make it lucky and also suggested some spiritual remedial measures. Alas! There was a salutary improvement in my niece's health in just six months and the hole in the heart had disappeared. Even the surgeon was surprised!
I can narrate many such success stories as regards Panditji's son Sri. V.S. Guruswamy also. If Panditji is considered God-incarnate by me, his son is our Guardian Angel whose professional skill as a numerologist, courtesy, and unfailing guidance always stood by us and helped. If "Science of Fortune" is considered a bejewelled crown of Panditji, "My Fortune", the latest eBook brought out by Sri. V.S.Guruswamy is the most precious gem in the crown. Because the latter has inherited not only the professional skill of his father, but also the "Divine Wisdom"!
The blessings of Goddess Gayatri and Pandit Sethuraman has helped Shri. Guruswamy to reach the pinnacle of success in the field of numerology.
We are fortunate to have him as our Guru and we pray for his long and prosperous life!
Back to testimonials