P.R.RAMASUBRAHMANEYA RAJHA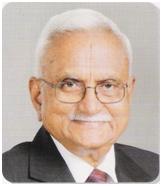 I had the good fortune to meet Pandit Sethuraman in the year 1977. After my father's demise in 1962, I had to take over the responsibility of running not only our Textile Mills but also the Cement factory which was just then started with a capacity of 66,000 tons per year. I had to put in a lot of hard work to stabilise our operations. In the year 1977, I took a big leap of investing more than Rs.15 Crores in our Cement factory to go in for the most modern type of dry process for the first time in Tamil Nadu with the biggest kiln of 1200 tons per day for the first time in our country. It was a bold decision and I was even criticised by other manufacturers as they thought that the investment was very high when the price of the cement was controlled by the Government at that time. Though I started the production, I ran into difficulties because of various problems in getting steady production from the machinery and also getting the right price from the Government. Under these circumstances, my nephew Sri N.K. Ramasuwami Raja, suggested me to meet our Panditji, the great Numerologist of our time, for his advice and guidance. Then, I met Panditji. After a very careful and deep study of my horoscope, he suggested that I should change the spelling of my name.
Subsequently, I took my entire family and he went through the horoscopes of my son and daughters and suggested some changes in the spelling of their names. Ever since I had contact with Panditji and on my subsequent meetings, my self confidence got strengthened and I was able to meet many challenges successfully. In fact, today I have been able to expand our Cement factory, which was started by my father with a capacity of 66,000 tons per year, to 6 million tons per year through 4 factories. Whenever I had to take important decisions in all our expansion programmes in Ramco Group, I used to consult him before launching our schemes. I would say with conviction that whoever came into contact with him and took his advice, their self confidence to achieve things in life has grown.
I very much miss him and at the same time I am happy that he has trained his son Sri. V.S. Guruswamy who is doing an equally good job following the footsteps of his father. Panditji published a book in Tamil which is widely circulated and it is a reference book for many who believe in numerology. I am glad that the book is now published in English, Hindi and Telugu by his son for the first time for the benefit of the people who may not know Tamil and I am confident that many people around the globe will be much benefited by reading and following this science. I wish this publication all success and I thank the Almighty for the opportunity I got to meet Pandit Sethuraman in my life.
Back to testimonials