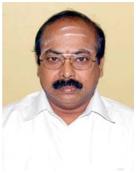 I was born on 27.08.1955 and brought up in Trichy. Due to financial difficulties in my family, I discontinued my studies at 8th standard. At the age of 16, I joined a button sewing shop for a meagre salary of Rs.300 per month. Except the determination to come up in life, I had nothing with me. While my life was going in this manner, luckily by virtue of good deeds of my previous births, I got the book, 'Science of Fortune', in Tamil presented to me by my friend. I read that book several times and I changed my name from M.RAVINDRAN to M.RAVINDHIRAN, which adds up to 37. I started practicing the spelling regularly. I had change of job within three months. Just as mentioned in the book regarding the power of number 37, I got associated with friends who were willing to invest some money in a business in which I would be taking entire responsibility and getting 10% commission for it. I also got involved in a love affair. As there were objections from both the families, without looking for any auspicious date for marriage, we got married urgently on 17.9.1977 (8&5), which is mentioned as a bad date for marriage. I was blessed with a son and a daughter. Unfortunately in the fourth year, my wife died in an accident along with our daughter. On that day I realised the serious effects of numbers and its impact on human lives. My sorrow knew no bounds. I did not want to make any further acid test on numbers and so I met Pandit Sethuraman and explained to him all my problems and the situation I was in. He gave a patient hearing and then looked into my horoscope and read my palm and told me that the lines there do not show any signs of fortune and my palm was just like a barren field, only henceforth grass should be made to grow on it. He said he would make me a rich man very soon. He made corrections in my name and the new name was M.RAVEENDHIREN. I got married again on an auspicious day. I was blessed with children. I had a change in my business and with Panditji's blessings and advice I came into the sweets shop business. He named my shop as SREE SWEETS. Though the business was dull in the beginning, it soon picked up very well. All my problems were over. I could rise to a very good position in the society. The sweets shop which was started in just 35 sq.ft has now grown in area to 3000 sq.ft. along with two more branches. I have opened one big departmental store by name SREENIDHI SUPER MARKET 20,000 sq.ft. I am also running a real estate business in the most successful manner. I started my life as a servant and now I have 400 employees in my business which is really unimaginable. I never thought that I would come up in my life to this extent.
I owe my sincere thanks to Pandit Sethuraman and his son Sri.V.S.Guruswamy.
I consider them as the main support for my success. I have introduced my friends from different religions to them and they are all prospering. Sri. V.S.Guruswamy's latest work is in the form of an eBook entitled "My Fortune" is sure to win the hearts of global readers, because it serves as a beacon to innumerable people who are sailing in the sea of troubles without finding the shore of safety. "My Fortune" leads us to our fortune I have seen a lot of ordinary people coming up in life like me with their advice and change of name. I wish my children should also follow the advice of Sri. V.S.Guruswamy and lead successful lives.
Back to testimonials