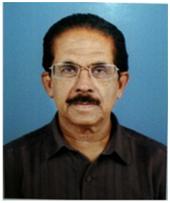 I am delighted to write how Numerology, as expounded in this book, helped me and my wife achieve success in our professional lives, which in turn, positively impacted my children and set them on a path towards personal and professional fulfillment from an early age.
The year was 1966. Despite earning two degrees (M.A. Economics & Bachelor of Laws) from the University of Madras, I found myself unemployed and living at the Young Men's Indian Association (YMIA) in Mylapore, Chennai. My days were spent applying for jobs, attending interviews and networking with any and every contact I could make. Although I was diligent in my efforts, three years went by without a job and even an eternal optimist like me was starting to lose hope. Then one day in October 1969, everything changed. A fellow YMIA resident told me about a book he stumbled upon while working on a consulting project in Pondicherry a Tamil edition of "Adhista Vingyanam" by Pandit Sethuraman.
Knowing my situation, he suggested I meet Panditji and ask for his guidance. He did not know Panditji's address. He only knew that Panditji lived in Mandaveli. So the next morning, I went to the Mandaveli post office and talked to a few postmen. One of them recalled that Pandit Sethuraman lived at No.19 Srinivasan Street. I walked to Panditji's house, a short distance from the post office and encountered a number of people sitting in the veranda waiting to consult with him. Among them were a businessman who lost his investment, a childless couple, a mother and father of an unmarried daughter and a middle-aged man with a malady deemed untreatable by doctors. I took my place amongst this crowd and waited. When my turn came, Panditji called me in and listened to my misfortune. After studying the relationship between my birth number (4), destiny number (3) and name number (6), he said that the failures in my professional life were due to my name number not being in harmony with my destiny number. He said this could be fixed by altering my name slightly to make my name number harmonious with my destiny number. He changed my name from T.Gopalakrishnan to A.T.Gobalakrishna (name number changed from 6 to 5) and instructed me to write my new name a certain number of times every day. He predicted that I would get a job within 30 days. I was not sure if this would work but I was hopeful.
To my great surprise, less than a month later in November 1969, a bank in Bangalore selected me as a Banking Officer. I was thrilled. I cannot describe the joy I felt when I received the letter from the bank detailing the terms of appointment. For the first time in three years, my worries vanished and a big burden was lifted off my shoulder. Until then, I didn't realize how valuable numerology and more importantly, Panditji's guidance was in helping me fend off my bad karma. Without his help that day, I would not be where I am today.
Within a few years of my first banking job, I rose to become Branch Manager of a bank in Chennai at its main branch. Then, in August 1982, with Panditji's blessings, I emigrated to the US with my wife and two sons, $20 in US currency (maximum amount allowed by the Reserve Bank of India at that time) and a small pocket of Veeboothi (sacred ash) from Panditji to help overcome any difficulties in a foreign land. Within days of arriving in New York, I started looking for a job. 1982 USA was totally different from the USA of today. Jobs were scarce and immigrants faced tough competition from locals. Furthermore, companies were reluctant to hire foreign nationals who lacked US work experience. But I was not discouraged because I had faith in Panditji's guidance. Finally, in September 1982, an international bank offered me a clerical position. I was overqualified for the role but I welcomed the opportunity. Within three months, I proved my worth and I was promoted to the next level and continued to gain more experience. Less than two years later, in April 1984, I moved to another bank and enjoyed a very successful and fulfilling 27-year career eventually rising to the position of First Vice President before retiring in 2011 at the age of 71.
Panditji also helped my wife's career by slightly altering her name thereby improving her chances for professional success. Although she worked for a bank in India, she chose not to seek employment in the US until 1986, two years after my daughter was born and four years after we emigrated. A local bank in the neighborhood responded to her application and called her for an interview. But she turned it down as she was not sure she was ready to go back to work especially in a new country. Undeterred, the bank's recruiting officer called her the next day and said "Listen, we would like to offer you the job over the phone even without a face-to-face interview because we believe your work experience would be a valuable asset to our company". We could have never imagined this kind of scenario a job offer to a recent immigrant with no US work experience without having to attend a face-to-face interview. Unbelievable! We had no doubt that numerology and Panditji's advice were the reason for my wife's good fortune. She accepted the job and advanced rapidly in her career working for two major global banks before retiring in 2012.
Numerology has also had a tremendously-positive impact on my personal happiness. Panditji used Numerology to fix my wedding date, to name my children, to set auspicious start-dates for new jobs and to provide guidance in numerous key situations. My three children went to some of the best schools and universities in the US and are now well-settled. My wife and I are enjoying our retirement and living a comfortable life while continuing to follow Numerology to this day.
I am extremely happy to know that Panditji's youngest son, Sri V.S. Guruswamy who inherited his illustrious father's personal qualities and wealth of knowledge is keeping the science of Numerology alive and vibrant and is helping thousands of people across the globe achieve prosperity and fulfillment in their lives. I am thrilled to note that Sri. V.S.Guruswamy has just published an eBook comprising of awesome accurate predictions for various combinations of birth, destiny and name number with numerological advice for success in love, marriage and business. This eBook is aptly entitled "My Fortune" because it reveals the interplay of numbers in our life that decides how fortunate we are and also how much fortunate we can become in future. I congratulate him and wish him all the best! May God bless him with a long and happy life.
Back to testimonials